Shower Room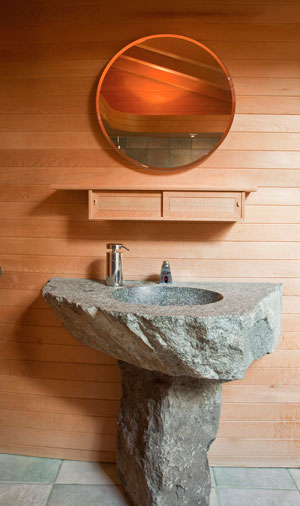 "The special quality of beauty in crafts is that it is a beauty of intimacy. Since the articles are to be lived with every day, this quality of intimacy is a natural requirement…..people hang their pictures high upon walls, but they place their objects for everyday use close to them and take them in their hands."  - Soetsu Yanagi, The Unknown Craftsman
The Shower Room is crafted in clear solid Alaskan Yellow Cedar. The wood is extremely durable and fragrant, and so is left without a finish. This precious wood is most commonly used in the construction of fine sailboats and is both a beautiful and practical wood for this space. The shower room and sauna paneling was installed by master craftsman Rick Swanson, with assistance from craftsmen Jason Peterson, Jeremy Peterson and Mike Buck. The sauna continues the play of curves set by the copper wall behind it, and is accessed behind shoji screen doors made by Steve Barney. Steve apprenticed in Japan early in his career, and is a craftsman of the highest caliber. Steve also produced the standing shoji screen and the wall cabinet.
The basalt columns weigh up to 1 ton each, and were acquired from the Columbia River Valley. Behind the columns sits a polished basalt seat, four Grohe shower heads and a commercial retractable hose for washing down the shower room floor. Sensors detect both motion and humidity, automatically venting the room during use. The sink is black granite found in beautiful Snoqualmie Pass, and was fashioned by sculptor Richard Hestekind.
The sauna is warmed by a Tylo heater, backed with a stand-alone steam generator. A Grohe shower and floor drain are also integrated into the room. The room includes a handled staved bucket made in traditional Japanese fashion by Steve Barney.  The window seat is a 4"thick slab of solid Alaska Cedar. A stainless steel panel behind the seat delivers heat to the atrium windows to keep them dry, allowing a restful view toward a sixty-year old pine just outside the window. The central computer calculates the dew point of the shower room air, factoring outside air temperature, inside air temperature and humidity; if moisture is about to form, hot water begins to circulate beneath the stainless steel plate drying the atrium window.