Pool Room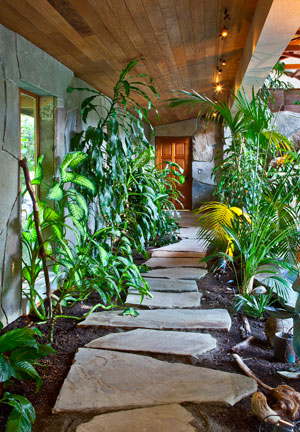 The Coval House swimming pool wing was built with a commitment to unparalleled craftsmanship and the finest materials available, and took 5 years to complete. This room was designed by Robert Davey, AIA, inspired by a crayon sketch from one of the Coval children. The 40,000 gallon pool is heated with the homes central one million BTU boiler via a computer controlled adjustable set-point, assuring perfect temperature at all times. The pool water is purified with a Corona Discharge Ozone Generator, and then filtered through a high volume sand filter. Swim jets delivering 500 gallons per minute provide in-place swimming, and a waterfall cascades down a wall of solid granite boulders. The swim jets are hidden in an astounding 9-foot long solid granite boulder. The waterfall was designed and set by master designer Scott Hackney of Marenakos Rock. The solid granite walls, staircase and 4 inch bluestone floors were set by master stonemason Dan Gagnon. Behind the waterfall is a hidden grotto with tile bench seats and low voltage lighting. The floors are all hydronically heated.
Humidity is managed with a high volume dehumidification system, managed by the central computer. Any heat energy recovered from the pool room air is returned to the room air or the pool water, depending on which is demanding heat. In extreme summer heat two large exhaust fans are automatically activated by a predetermined heat set point, and shut down once the room has returned to a comfortable temperature.
The truss system is a traditional Japanese roof structure known as Shinzuka and is crafted in solid Bubinga, with decking in Afromosia. Yoshikuni Shimoi, a Master Craftsman from Japan, adapted this ancient system to the pool room. The wood was acquired in South Africa, processed in Germany and then kiln dried in Los Angeles. A crew of 10 woodworkers labored for over 18 months to create and install the trusses, which were joined and assembled one piece at a time on site. The joinery systems are designed by Curtis Erpelding, a furniture maker with the Northwest Woodworker's Gallery. Each Bubinga member was hand sanded and polished to a furniture grade polish. The exterior roof is standing seam solid copper, and the poolroom rests on 500 tons of granite that visually anchor the structure to the land. Upper windows are solid Bubinga, lower doors are ½" thick storefront glass doors encased in stainless steel, which open to the south perennial gardens.