Pool Room Bar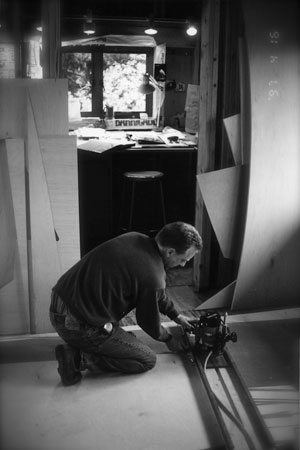 The poolroom bar is by far the most complex cabinet system in the Coval home. The four primary curves are non-concentric and each has its own distinctive radius. The construction of the bar required top-notch skill typically found only with fine boat builders. The bar was crafted by Thomas Eck, a Master Craftsman formerly with Delta Yachts and currently working with Shultz Miller Homes. Tom was assisted by Dusko Andreic, a talented craftsman with an aeronautical engineering background in Serbia, later becoming a tennis pro making his way to the United States.
Tom and Dusko hand formed each curved drawer in a vacuum press, a high-risk process that allows for no error. Each drawer is hand dovetailed, veneered in vertical grain Bubinga, and banded with solid Ebony. The solid copper handles were fabricated on site, curved in a custom mold using a five-ton hydraulic press.
The back wall and bar face are surfaced with 2000 pounds of solid copper. The bevel edge motif was accomplished with a machine planer, finely crafted by Lindmark Machine of Seattle. The patina on the copper results from the handprints of the craftsmen who installed it, still evident after 13 years. Flamed granite countertops were hand shaped by sculptor Richard Hestekind.
The bar top is a 14 foot long solid slab of Bubinga, 3½" thick with the "live" edge of sapwood remaining. As luck would have it, this particular Bubinga tree was naturally curved, so the hardwood slab fit the curved bar perfectly.
The bar is fitted with Gaggenau cooktops, a Dacor vent, Sub-zero refrigerator and freezer drawers, a Miele dishwasher and a Sharp Microwave. Copper sinks and Arts and Crafts lighting by Mica Lamps complete the warm ambiance reflected in the curved copper wall. Shoji screen under-counter lighting casts a beautiful and functional light across the bar countertop.
Controls for the waterfall, swim jets, and poolroom doors are conveniently mounted at the end of the bar. Variable speed controls for the waterfall and swim jets are also discreetly hidden in the bar cabinets.