Pool Room Loft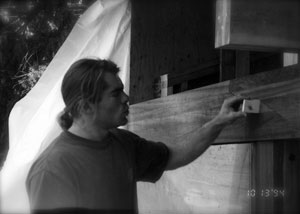 The Pool Room Loft provides a relaxing sitting area for large gatherings in the Pool Room, or a quiet retreat space that serves as a second living room. The Loft is accessed using the bluestone staircase that climbs behind the waterfall. The stairwell walls are solid granite boulders, set by master mason Dan Gagnon, and the railing is sandblasted stainless steel. The floor is hydronically heated and finished in bluestone.
In the Loft the beauty of the Bubinga trusses can be fully appreciated and touched, and the precision of the joinery is easily seen. Surrounding the room are vertical grain Bubinga cabinets with Afromosia tops crafted by Steve Barney. The copper door pulls were forged by hand on site, and are aged to a beautiful patina. Solid Bubinga windows, manufactured specifically for the Coval House, were provided by Quantum Windows.
A discreet door on the south wall of the loft provides access to a powder room and a component room for a media center. Lights are Craftsman style fixtures by the Mica Lamp Company.