Master Bedroom Suite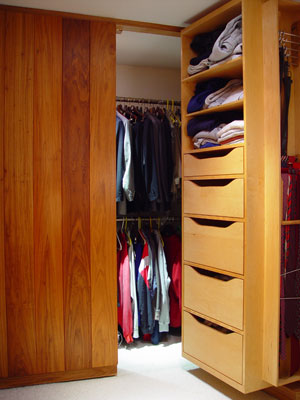 "….each board, each plank can have only one ideal use. The woodworker, applying a thousand skills, must find that ideal use and then shape the wood to realize its true potential. The result is our ultimate object, plain and simple."  - George Nakashima, The Soul of a Tree
The master bedroom is centered round a spiral staircase crafted in teak, hand made by craftsman David Paul Eck in 1990. The inspiration for the staircase and the intimate loft space is the historic French Chestnut Trees planted by the French immigrant Desire Alexandre (later Anglicized to David Alexander) sometime around 1910. Like a tree house, the loft provides a quiet refuge for contemplation, and one "ascends the tree" up the gentle curve of the staircase, gaining a view of the grounds in all directions. In the fall, the chestnut tree is abundant with its harvest, and squirrels scurry from branch to branch releasing the nuts for the winter ahead. The Tree Loft is one of many places of solitude at the Coval House, but may be its most intimate.
The staircase took 6 months to complete. The central beam is a lamination of mahogany veneer, free floating, fashioned in place with a series of ascending molds. Structurally, the staircase design is inspired by the skeletal form of a fish. A central beam radiates out numerous ribs, which collectively hold the whole form together. The beam is then veneered in teak. Treads are solid teak, plugged with rosewood and anchored with blind stainless steel bolts. 175 balustrades support a bent laminated rail, formed on site of solid teak.  Primary joinery includes mortise and tenon joints for the balustrades, and slip joints for the treads.
Room trim and window casings are Costa Rican Laurel hardwood, no longer exported from Central America after 1987. Roof is heavy gauge solid copper standing seam panels, wrapped with 5-inch solid copper half round gutters. 100% wool berber carpets soften both spaces.
The Master Suite dressing room is paneled in solid Costa Rican Laurel planks. The Dressing table is crafted of Central American Cocobolo. The handmade tambour doors are fitted with Ebony handles and pinned with Sterling Silver, and the drawer is hand-dovetailed maple.
The hidden closet doors are revealed using a touch latch. The doors are supported with custom-made brass knife hinges, fitted with industrial bearings. All drawers within the automatically lit closet are also hand-dovetailed, and banded with Laurel. The closet poles are on-site fabricated stainless steel tubing, welded and polished.
The Master Bathroom is finished in granite, including walls and vanity. A Kohler jetted bath, bidet, and open shower provide maximum comfort. Humidity and motion sensors provide ventilation for both the shower and toilet.