Rick Swanson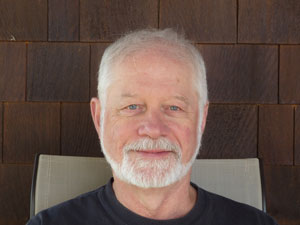 Rick Swanson was born in 1948 and grew up in Seattle. After graduating from high school and being discharged from the military, Rick attended a community college and earned an associate's degree in architectural and industrial graphics. He soon realized that he didn't want to spend his career as a draftsman. Throughout high school he had taken drafting courses, but he had never had a shop class and his only exposure to woodworking was assisting his father with weekend projects. He enjoyed this time and admired his father's ability and ingenuity but didn't develop an interest in pursuing woodworking at that time. 
After graduation from community college he went to work at a chemical factory running a four-story distillation building making artificial vanilla. This was a good-paying job, working rotating shifts with lots of overtime, but clearly not a career path for Rick. During this time he met Katie, and shortly after they were married in 1973 he quit his job and started his business. With little experience but lots of encouragement from a friend who owned an antiques business, he started designing and building small furniture and accessory pieces that were marketed in his friend's shop. He also started showing his work at some of the summer street fairs and built a clientele of people wanting to have pieces custom designed to their needs. At one of the fairs he met Stan and Judy Gillis who own the Real Mother Goose Gallery in Portland, Oregon, one of the premiere American craft galleries in the country.  After the fair was over they came by Rick and Katie's house and bought his remaining inventory for their store. The two couples soon became fast friends and Rick has worked with them for over 35 years. He has had three shows in their furniture gallery, as well as showing individual pieces there over the years. He has also built most of the display casework for all three of their stores.
Early in Rick's career he became the Seattle representative for Peck Clamp Tool Co. to supplement his business income. Peck Tools imported most of the German woodworking hand tools into the United States. In the process of showing these tools he met many fine woodworkers, many of who expressed an interest in the formation of a woodworkers' guild. In 1977 Rick brought a group of them together for an initial meeting at his home. The guild grew and offered opportunities for woodworkers to socialize, share information and skills, and make group purchases. They also sponsored numerous workshops with Sam Maloof and James Krenov.
In 1980 Rick was among a group of guild members who started the Northwest Gallery of Fine Woodworking (now renamed Northwest Woodworkers Gallery).  Among the early members of this woodworking cooperative were David Eck and Steven Barney. Rick was active in the formation and operations of the gallery until 1997 when he decided it was time to move on and focus more time and attention on his own business. He called Dave Eck, who was the Project Manager on the Coval home, and asked if he could use another craftsman. A week later he was introduced to Jason and Jeremy Peterson and told that they would work under him to complete the shower room of the pool house.
Rick says,"The Coval home was a pivot point in my career much like meeting Stan and Judy Gillis in the early 70's and being involved in the formation of the guild and gallery in the 1980's. Opportunities arose and opened doors revealing new possibilities and perspectives that changed the course of my life and career.   Working with a group of talented and creative people on a project that was to me, like the modern equivalent of the Gamble House, was a new and exciting alternative to the solitude of shop work and the limits of single piece production".
Since that time, Rick has been project manager, general contractor or subcontractor on some of the premiere homes in the greater Seattle area, Methow Valley and Portland/Vancouver area.  In 2006 Rick and Katie sold their home in Seattle and moved to the Methow Valley. They have a home outside of Winthrop where Rick has a large woodworking studio. He continues to work full time as a designer-builder of fine furniture and interior installations. Katie Swanson has her fiber arts studio above Rick's shop. Rick does numerous private commissions and still shows some of his work at the Real Mother Goose Gallery in Portland, Oregon and the Confluence Gallery in Twisp, Washington. He is currently involved in the formation of a woodworkers' guild in the Methow Valley.
After Rick's father retired and before he passed away in 1981, he spent time helping Rick with some of his projects. It was some of the best time they spent together.  Rick cherishes those years working along side his father, and wonders where he might have been had he embraced his father's woodworking passion much earlier in life. The musings of a consummate woodworker, but there is no question Rick's father would be proud of where Rick has arrived, and what he has become.
More about Rick's work can be seen at his website for Swanson Woodcraft.