Yoshikuni Shimoi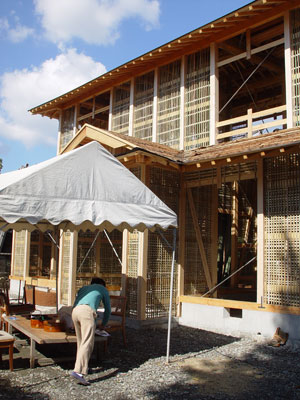 Yoshikuni learned his carpentry skills in Japan before coming to the United States. Once he Seattle, he began to take on work using the traditional techniques he had acquired in Japan, from small garden structures to teahouses and residences. He has worked for clients across the United States.
In the late 1980's he was invited to the University of Washington to do a workshop on joinery and construction techniques, where he met David Eck. Years later, while Dave was in the midst of the Coval House, he consulted Yosh on the design of the Pool Room trusses. Yosh proposed the traditional Shinzuka design, and helped instruct the woodworking team on how the system worked. The Shinzuka truss was an adaptation of Western style roof construction, and can still be seen in large buildings in Japan where center posts, more typical of traditional Japanese architecture, cannot be used.
Yoshikuni shortly thereafter moved from Seattle to take on a major project in Northern California, and never saw the completed trusses.  His design assistance was invaluable to the success of the monumental structure, one of the finest features of the Coval House.