Michael Mey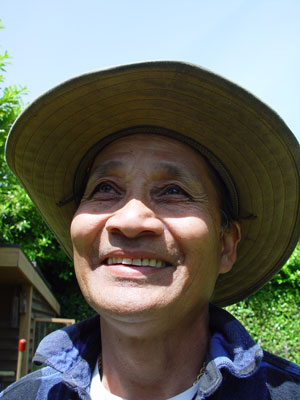 Virtak Mey, later changed to Michael, was born in the early 1950's in Cambodia's largest province of Compong Thom. For almost twenty years Virtak enjoyed life on his father's large and prosperous farm, growing rice, corn and other vegetables along the lowlands of the Stung Sen River. Virtak split his time between duties on the family farm and his education, which was preparing him to become a doctor. In 1970, The Khmer Rouge began to take control of the country, closing schools and persecuting anyone with wealth, social stature or education. No longer able to pursue his education or work the family farm, Virtak was drafted into the Cambodian Army to fight the Communist Khmer Rouge.
The Army noted his medical education and began training Virtak for service in a mobile army surgical hospital, known in the U.S. military as a "MASH" unit. After his training there Virtak was transferred into a battalion of 450 soldiers to help defend Compong Thom province, serving as a field medic. He witnessed the horrors of war but survived, only then to be deployed into Vietnam under the direction of American advisors. After three years fighting in the jungles of Cambodia and Vietnam, he was transferred to Phnom Penh, and given a desk job to serve out his military commitment. After military service, Virtak made his way to Battambang, a safe -haven near the Thailand border, but in 1975 The Khmer Rouge seized complete control of the country and began a systematic "cleansing" of the population. Virtak was forced into a labor camp clearing roads and building the infamous Battambang Dam, witnessing horrific atrocities against his fellow Cambodians, later depicted in the 1984 film "The Killing Fields". In 1979 Virtak escaped into Thailand, applied for asylum, and finally made his way to the United States, where he changed his name to Michael.
Michael arrived in Seattle in 1982, and applied to the University of Washington Medical School. Financial realities kept him from pursuing his education however, and Michael abandoned his dream of becoming a doctor. He continued to work at a Redmond electronics firm, manufacturing circuit boards and wiring harnesses for robotic applications and submarines, and worked a second job on weekends, quickly saving enough to start his own landscaping and maintenance business.
In 1982 Michael began visiting his fiancé Nga at her newly acquired job on Mercer Island, where she provided domestic support to the Coval family. The following year Michael and Nga married, and in 1986 Michael began working full time on the Coval estate. He became very close to Barbara Coval, who was continuing to shape her vision of a garden paradise. Together they developed two organic vegetable gardens, extensive perennial flowerbeds, and planted beautiful specimen plants across the five-acre estate. Michael cleared the back two acres of blackberries, making way for more apple trees, and soon learned to prune them with great skill. When the weather was unbearable, Michael was enlisted into the woodworking shop, where he helped with wood finishing, installations, even learning to hand cut dovetails for drawers. In 1993 Michael mastered use of the Coval's new Kubota backhoe, allowing the installation of more mature specimen plants, and made himself invaluable to plumbers and electricians who relied on his tractor skills. Michael continues to work the Coval estate to this day, tending the plants, gardens and orchards as if they were his own, which in many ways, they are. Each year he meticulously prunes his beloved apple trees, and in the fall, presses 50 or more gallons of apple juice for the coming year's enjoyment. After many years of hardship Michael has become a U.S. citizen, a successful business owner, and a father to Nga's children. He has made peace with his experiences in Cambodia, and regularly returns to visit family, but he is most at home among his plants, trees and gardens on Mercer Island, honoring the skills his father taught him on their Compong Thom farm.