Scott Hackney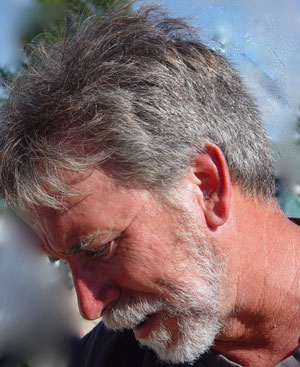 Scott Hackney was born in 1957 and grew up in Roseville, Minnesota, a safe and secure suburb just east of St. Paul. Scott's memories of his childhood are recalled with fondness: a stable home with supportive parents and good friends, and lots of time learning from a "hands-on" father. He spent his teenage years skiing and playing golf, and like most teens his age in the early seventies, was deeply impacted by the social changes brought on by the Vietnam War. Just prior to his High School graduation, Scott's father, who had an executive position with Great Northern Railroad, was offered a lucrative position in Seattle. Scott stayed behind to complete graduation, and while he was at it, took full advantage of his freedom from parental scrutiny.  When his parents returned to witness his graduation, they first needed to extract Scott from a jail cell in Stillwater, for an incident that did not involve him, a case of mistaken identity. The other unrelated details of the evening, however, were never completely sorted out, and maybe just as well; a wrecked car, reports of a streaker, Scott's missing clothes, and his wearing of golf shoes at 3am on the way back to the Loch Ness Bar were probably all details his parents preferred not to sort out.  
Graduation complete, Scott joined his parents back to Seattle two days later, quietly and cooperatively. Upon arriving to Seattle, Scott was overwhelmed with the beautiful landscaping of his parents new home. Unlike the stark grass lawns of the Minnesota house, his new yard was filled with beautiful boulders, old stumps, and thriving plants and trees arranged in pleasing compositions. He learned that the yard had been designed and installed by a landscaper his father had contracted, Mr. Earl Pickering. Scott also learned that his father had arranged for him to go to work for Pickering immediately. With memories of his father talking with him through the bars of the Stillwater jail still fresh in his mind, Scott thought it wise to oblige.
On Scott's first day of work, he was instructed to take Pickering's old truck and pick up a load of landscaping rock at Marenakos Rock in Preston. Upon arriving first thing in the morning, "Grampa" Bill Marenakos offered Pickering's new employee a tumbler of Scotch and a discourse on the world of rocks and life. Scott respectfully accepted, and some hours later, made his way back to the Pickering yard without a single rock in the truck. Knowing this would likely lead to his immediate dismissal, he went home to wait for the wrath of his father. Instead, he received the same call from Earl as the morning before: "Come to the yard, get the old truck, and pick up a load of rock at Marenakos. Only this time, respectfully decline the Scotch and conversation."  Scott did just that, and so began a close relationship with Earl Pickering, Grampa Bill and the new kid from Minnesota.
Scott learned everything he could from Earl about the landscaping business, and within a year, when Earl announced his desire to close the business and take a job in Wenatchee, Scott purchased the old truck and Earl's business contacts. Soon Puget Landscaping was thriving, and Scott took on his brother Rollie as a partner. As the business grew, new opportunities arose and the partners began to shape different visions of the future of the business. Scott also married, and felt urgency to take greater risks to grow his business. About this time, Scott met Phil Shuetz, a talented young man gifted in drawing and visualizing landscape designs, with an equally impressive ability to sell his ideas. Scott parted with Puget Landscaping, and together Phil and Scott formed the Highridge Corporation, providing landscapes for model homes and large new housing developments. The demand for Highridge's services was strong but Scott found himself unfulfilled.. The volume and scale of the Highridge projects generated positive revenues, but there was a poverty of creative energy and variability for Scott, early inklings of an artistic spirit, hidden but deeply alive within him.
Over the years as Puget Landscaping, Highridge and then Hackney Landscaping, Scott continued to purchase all his rock from Grampa Bill Marenakos. Bill came from a family of successful logging operators, and looking to carve his own niche in the trade, saw a need to provide roads into the forests where the trucks ventured. He formed the Renton Powder Company, and one of the discards of the extensive road building and blasting was a lot of rock, which he dumped in his machinery storage yard in Preston. Soon local landscapers began asking to buy the rock, and Bill soon realized the real opportunity for him was in the outfall of the road construction, not the other way around. Well connected in the forestry industry, Bill valued and developed personal relationships above all else, and the trust he cultivated yielded access to vast supplies of granite in Snoqualmie Pass. Grampa Bill's business thrived and in time was handed down to family members Rod Hyde and Ray Reeves. Scott became close to the entire Marenakos family, developing a deep mutual respect and fondness as the years passed.
In the early 1990's, the two owners of Marenakos decided to retire and pass the business on to a third generation of family ownership.  By this time Scott had built a close relationship with Bill Hyde, Rod's son, who was close in age to Scott and who frequently teamed up with him on a variety of major projects. The family made a decision to offer an ownership position to Scott as well as Bill, even though Scott was not a family member; recognizing his strong work ethic, solid business mind and creative talent, the Marenakos family saw Scott as an asset to the future of the business.  The young owners jumped at the opportunity, bringing fresh energy and new ideas, and the Seattle housing market, flush with dotcom dollars, provided unimaginable demand for extravagant landscapes.
One of the first major projects for Scott was the Coval House. After meeting with Myer Coval and gaining his confidence, Scott was given carte blanche to create a waterscape that included two ponds with a circulating stream between them, and when that was complete, a waterfall in the indoor Pool Room. Scott remembers that the Coval House was the turning point in his career; it was the first opportunity he had been given in which his artistic sensibilities could lead the way, unencumbered by budgets, design committees, and most importantly, time.  Scott fit perfectly into the highly collaborative and creative environment, a unique and rare opportunity that was becoming a hallmark of the Coval project. The request from Myer was to "Bring me your best work, the best materials, and keep an open mind for ideas and possibilities." For the artistic spirit, this was heaven, and Scott savored the moment.  For others that did not find the creative risk and uncertainty exhilarating, or did not find joy in the handling of exquisite materials, the Coval House was an endless frustration. But Scott was, as other artists on the site, viewing the work and design as his own. Myer and Barbara Coval were purchasing a work of art that was yet complete, and in order to extract the intangible quality that transforms something from the usual to the extraordinary, they too needed to swim in uncertainty and risk, and allow each craftsman and artist to leave something of themselves in the work. For everyone involved, this was an experience that did not suit itself to inflexible drawings, time constraints, power hierarchies or big Egos; Scott embraced the collaborative energy of the moment, and left one of his finest works at the Coval House.
For the Covals, timing was also fortunate when it came to rock. Like much of the wood in the Coval House, rock is also limited in availability. Once a source of wood or rock has been depleted, particular designs and ideas vanish as well, since the hallmark of exceptional craft springs from a reverence for, and a conversation with, the very material itself. Fortuitously, Marenakos has just completed the massive 9-foot diameter diamond rock cutting saw, the largest of it kind west of the Mississippi River. This allowed possibilities with stone previously unimaginable, and Scott took full advantage of it at the Coval House. He also tapped the rich reserves of the Hansen Creek Quarry, which held some of the highest quality aged granite available in the Northwest. Much of Hansen Creeks finest stone found a new home at the Coval House as timing would have it. As Scott's vision evolved, truckloads of granite arrived to the site, as simple as an artist's brush reaching for another dab of paint.  A noteworthy stone that arrived to the Coval House was the "Butter Cube", a massive boulder in the Hansen Creek Quarry so named because it's proportions resembled a perfect stick of butter. It sat for years, serving more as a landmark in the quarry, patiently waiting for some perfect use. While working on the Coval Waterfall, Scott saw that use, a stone nestled low in the structure and pierced with holes for the underwater swim jets. The fact that the Butter Cube weighed over 16 tons proved no obstacle, it arrived to the diamond saw for sculpting, and later was lowered into the waterfall through a small hole in the just installed Bubinga trusses, a risky maneuver that could have produced devastating consequences. 
After the Coval House was completed in 2000, the high-end Seattle housing market took off like a wildfire, and Marenakos Rock was in the midst of the fervor. The company grew quickly to 55 employees, and the fleet of rock-setting trucks could be seen all over the Northwest delivering exquisite stone to the lavish mansions that were monuments to the sudden success of technology companies. By 2004 Scott was raising three daughters, managing a demand for his products and services that required his undivided attention, and enjoying financial stability in a field that had always been seasonally unstable. But as is the nature of life, a crisis begin stir within him. Despite his modest success, Scott longed for the immediacy of creativity, and at times felt a sense of responsibility with the opportunities before him, and wondered how he might share his good fortune. In his fifties by then, it may have been the beginning of a midlife reevaluation, a developmental experience that Scott choose to embrace rather than let fester into a crisis. That same year, 2004, Scott connected with Alexandra Morosco, a sculptor now living on Whidbey Island, and he had an awakening.  Their shared love of stone generated a creative storm of ideas, which led to the formation of The Stonearium Gallery in Seattle's Sodo District, now relocated to Preston. The following year, Alexandra and Scott held the first Stonefest, a four-day event that celebrated the passion of stone across many disciplines: sculptors, masons, landscapers and designers. The event included educational seminars, hands-on workshops, exhibitions and networking. The event was a complete success, and has been repeated annually since then. Stonefest 2010 themed "The Inheritance of Stone" was pivotal, and focused on the sharing of community within the craft, and the bond of master and apprentice. Stonefest 2012 will be held in September, and has attracted not only participants from across the United States but from Europe and Japan as well. Alexandra and Scott continue to develop their thoughts regarding the nature of apprenticeship and the transfer of knowledge to a younger generation. Although still passionate about the techniques of craft and stone as a medium of expression, they continue to explore how they might find ways to empower young minds with what they both have learned and experienced.
With the housing market in a lull, Marenakos Rock Center has taken the opportunity to retool their commercial operation and shape a vision for the future. After much self -reflection, the future path for Scott as an owner Marenakos continues to be elegantly simple: "Connect People with Stone". For Scott the artist however, it is that and deeply more.  The "Inheritance of Stone" is not just the responsibility of passing on what he has learned and gained, but of also honoring Earl Pickering, Grampa Bill Marenakos and Scott's own father, who gave the gift of stone to him.