David Paul Eck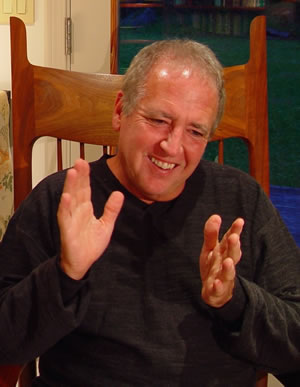 David Eck was born in Oregon and raised in Anaheim, California, enjoying a stable life in the suburbs with lots of neighborhood friends and the endless California beaches as his playground. Dave's father was a mechanical engineer who enjoyed working on his own home and cars, and spent countless hours helping friends and relatives who valued and needed his expertise. He would frequently conscript a begrudging David into his weekend missions of service, sending Dave scurrying for a pipe wrench or encouraging him down into a nightmarish crawlspace, all the while developing in Dave a competency with tools and problem solving as well as helping others. Dave's father was also an avid hunter and fisherman, who enjoyed restoring firearms. Although Dave did not take to hunting or fishing, he was mesmerized with the beauty of his father's antique rifles, rich with satin smooth walnut and gleaming blue metals.
At age twelve, living in the suburbs, firearms did not hold much promise as a hobby for Dave, but an icon of 1960's Southern California culture would: Hot Rods. Dave rehearsed with countless scale model cars, painting, assembling and altering the miniatures, anticipating the day when he would have before him the real thing. At age thirteen, it happened. His Uncle Floyd, a car mechanic, unloaded a complete, filthy, un-repairable 283 cubic inch small block Chevy V-8 engine into Dave's parent's driveway for him to dismantle and examine. Dave was in heaven, his mother was dismayed, and his father kept quiet.   
By the time Dave graduated from Servite College Prep School in 1973, he had built numerous 1930's era Fords from the ground up, and had sold enough cars to purchase five acres of land in Northern California, laying the groundwork toward eventually building his own home, a goal that had always been a childhood dream. That same year, Dave entered California State University at Long Beach as an Electrical Engineering major, but soon gravitated toward the Fine Arts Department, where the combination of creative energy and manual skills captivated him. As fortune would have it, Long Beach had developed a nationally acclaimed Art Department, and Dave focused his attention on Drawing, Painting and 3-Dimensional Design. He was deeply influenced by professor John Lincoln, a Los Angeles artist who lived both in Pasadena and Paris. Lincoln was well known for his figure drawing and was also a noted interior designer and art collector, and served as the antiques consultant for Architectural Digest for many years. Dave credits Lincoln for developing in him a refined aesthetic sense, cultural curiosity, creative innovation, and a love of art and antique collecting.
While at CSULB Dave purchased a 1941 Ford station wagon "Woody", which was largely made of maple. Having no woodworking experience, Dave began wandering through the Art Department's woodshop trying to glean some skills with shop equipment to help him in the restoration of the car. The Crafts Department was under the direction of California craftsman John Snidecor, and Dave found in him a supportive and knowledgeable mentor. Snidecor was also a talented builder of houses, which further attracted Dave, hoping he might gather some experience to help him one day build his own home. Soon Dave was spending significant time in the Crafts Department, working with wood, metal, leather and other fine materials.
In 1976 nationally known furniture maker John Nyquist was invited to teach at Long Beach as a guest artist, and Dave enrolled in his Studio Furniture Design course. Nyquist recognized Dave's design skills, and together with Snidecor, encouraged him to focus on furniture design and construction. In 1977 Nyquist introduced Dave to James Krenov's new book, "A Cabinetmaker's Notebook", and Krenov's passionate ideas about woodworking and the life of a craftsman had a tremendous impact on Dave, as they had on woodworkers around the world. Recently married, Dave was beginning to contemplate how he might build a career as a furniture maker, and where he and his wife might settle. The romantic appeal of Krenov's writings ignited Dave's desire to live simply in a countryside setting, working at a home studio and even doing some writing, which Dave was actively pursuing as a Minor Degree at Cal State Long Beach.
By the time Dave graduated with a B.A. in Fine Arts he was teaching woodworking at CSULB, working in John Nyquist's studio, and he had sold the Ford Woody at the prestigious Rose Bowl Antique Car Show. Dave was offered a full-time teaching position at the University, but the allure of living in the country and building his own home and studio outweighed the opportunity to develop a teaching career in California. Out of school, Dave instead moved to Seabeck, Washington, and built his first house, a retirement bungalow for his parents.
 In 1980 he moved to North Bend, Washington and settled into his studio making handmade furniture. In 1981 Dave joined the Northwest Woodworkers Gallery in Seattle and started working for Woodcrafters Hardwoods in Redmond, Washington, a retail and wholesale store of fine hardwoods and tools. Within 3 three years Dave had purchased Woodcrafters with a partner, and started The Skills Improvement Program which offered woodworking classes to furniture-making enthusiasts, and included 10 instructors and guest artists. He also started the woodworking newsletter "Woodtalk", which had a readership of over 8000. Unfulfilled as a retail business owner, Dave sold his interest to his partner but continued at Woodcrafters as a consultant, writer and instructor. He also began exhibiting his furniture in West Coast galleries, including Gallery Fair in Mendocino, Mills House Gallery in Los Angeles, the Bellevue Art Museum, the Contemporary Crafts Gallery in Portland, and the Seattle's Northwest Woodworkers Gallery. Dave was also was a contributing editor to Pacific Woodworker Magazine, and his work appeared in Fine Woodworking Magazine as well.   
In 1984, James Krenov was invited to the University of Washington School of Architecture for a lecture and weekend workshop. Dave attended, and by chance at the end of the evening, found himself reluctantly engaged in a conversation with Krenov. James learned that Dave was soon coming to Mendocino, California for an opening at Gallery Fair, and he invited Dave and his wife to stay at his home nearby. The visit with Krenov led to an ongoing conversation that lasted three years, mostly phone conversations and letters, one of which Krenov used in his lectures at his College of the Redwoods Fine Woodworking Program. Krenov's appearances were in demand world wide, but Dave had managed to convince Jim to return to Seattle, a city Krenov was fond of having lived there as a young man. In 1985 Dave hosted James Krenov workshops at Woodcrafters on two occasions, the second a week-long workshop entitled "Tools and Therapy" that examined the emotional and financial impact of the craftsman's lifestyle on the artist and family.  One evening, while Dave and Krenov were talking in a Seattle hotel room, Krenov said that he believed Dave's most valuable gifts lay in helping people and writing, not doing woodworking. Krenov had meant his words to be supportive, but instead they were devastating to Dave. To be told by the world's most famous woodworker, a person Dave had admired and emulated, that he was not best suited for the craft that they shared was unbearably painful. Krenov proposed writing a book together, based on correspondence and conversations between them, but Dave could not the potential of the offer, and declined. He never forgot that evening, but years later found comfort in discovering that Krenov's words were profoundly foretelling.  
In 1985 Dave began building a new studio and home on 6 acres in North Bend. While the home was under construction his marriage abruptly fell apart and Woodcrafters went into bankruptcy. Disillusioned as an artist and craftsman, Dave began to entertain other career options and left the Northwest Woodworkers Gallery, where he was then serving as President. Being burdened with a major construction project and a crisis in both work and his relationship made 1986 a difficult and pivotal year for him. Despair made working in the studio difficult, and there was little in his life that had much meaning. With no prospects, Dave considered selling his home and studio, but at that moment he received a phone call from Myer Coval, asking Dave for help in building his home on Mercer Island. Myer had purchased a cabinet that Dave had built for the Woodcrafter's store, and he appreciated the craftsmanship. Perhaps, Myer thought Dave might be the person to help him develop his love for wood.
Although disillusioned with woodworking and skeptical of Myer's dream to build a home like a fine piece of furniture, Dave responded even though he believed that Myer's dream was unrealistic. In time however, Myer and his wife Barbara's commitment to building a remarkable and unusual home became clear, and a stimulating collaborative relationship began to grow. By the early 1990's the Coval house was in the process of massive renovation, and Dave was fully engaged in the design and execution of the fine woodworking. Finding his life reaching a new level of financial and emotional strength, Dave applied to the Clinical Psychology Program at Antioch University Seattle, responding to insights that developed during the soul searching of his divorce. Dave soon earned a Masters Degree in Psychology, and became a Licensed Mental Health Counselor. As the Coval House progressed, it became clear to Dave that the ever-expanding vision of Myer's home was more than he could handle. He stepped back from the hands-on work, and instead began to oversee the entire project, facilitating the design process with the Covals and managing the many subcontractors. He also began to assemble a crew of talented woodworkers, training many of them and developing an unusually tight team spirit. Dave also brought in many established woodworkers that had been his partners at the Northwest Woodworking Gallery. In addition to contributing their woodworking, they served as mentors to the young talented team that surrounded them.
Since the completion of the Coval House in 2000 Dave has developed his work as a Mental Health Counselor in private practice. He has offices in North Bend and Queen Anne Hill in Seattle. He spends his time collecting art and antiques and tending to his home in the woods at the foot of Mount Si. He also enjoys traveling, having been to France, Costa Rica, Peru, and Japan many times. He reflects often about the years he spent at the Coval House, and recognizes it was a "once in a lifetime" experience for an artist. Not only did it surround and support him during a major turning point in his life, the creative opportunity and the collaborative environment provided invaluable experiences and opportunities for personal growth. In many ways he feels that  what he learned there has made him a better therapist, and helped reconcile parts of himself struggling for harmony. Krenov was ultimately accurate in his assessment of Dave and he now feels at peace with Krenov's observations. Nurturing potential, revealing beauty, or simply listening to what something wants to be, these are the common craft of both the woodworker and the therapist, and whether it be words, wood or a helping relationship as the medium, all ultimately lead to the elegance of simply just being.