Stephen Barney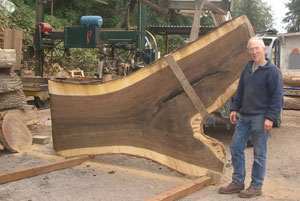 Stephen Barney was born and raised in Eastern Oregon on a large cattle ranch homesteaded by his great-grandfather.  He developed there a strong work ethic, proficiency with machinery, and a reverence for the outdoors and natural materials. Steve worked on the ranch and furthered his education until 1967, when he enlisted in the U.S. Army. Steve's military service led him to Korea, and then to Japan, where he processed daily reports of military actions in Vietnam. When not performing his on-base duties, Steve taught English off base, giving him further appreciation and curiosity about Asian culture. Following his discharge from the Army in 1970, he attended Sophia University and began his formal study of Japanese language and history. Upon return to the U.S. in 1971, Steve continued his education and earned his B.A. degree in Japanese History from the University of Oregon in 1972.
Later in 1972, Steve returned to Japan and attended a Japanese language school in Kyoto to fully immerse himself in Japanese culture and language. His daily commute to school took him by a carpenter shop where craftsmen were fabricating various components for traditional Japanese homes.  Steve was mesmerized by the craftsmen's skill with hand-planes. He was fascinated watching them as they hand-planed huge timbers with seemingly effortless motion. The sound of the planes and the sight of the long, shimmering curls spinning out of those planes resonated deeply with him; and Steve set out to learn about their craft.
To introduce Steve to various types of Japanese woodworking, an acquaintance took him to several local woodworking shops. Shortly thereafter Steve began a three-year apprenticeship program under the tutelage of a Japanese master craftsman at Miyazaki Woodworking Company in Kyoto.
In 1975 Stephen returned to the United States, and began a second apprenticeship with nationally renowned craftsman Evert Sodegren, after which Steve established his own furniture-making studio producing fine furniture that sold nationally.  His work was shown at the Henry Art Gallery, Oregon College of Arts and Crafts, and The Northwest Woodworker's Gallery, where he was a founding member in 1980. Steve was also a guest lecturer at the University of Washington School of Architecture, The Primrose Center for Fine Woodworking in Missoula, MT, and Woodcrafters Hardwoods in Redmond, WA.  Steve's work has also been featured in Fine Woodworking magazine.
In 1982 Steve brought his experience to Lundstead Furniture Design in Kent, WA, where he worked with the engineering department to develop new designs, prototypes, and build the company's signature line of high-end office furnishings. In 1991, longing for the solitude of his studio, Steve left Lundstead and pursued his own commissions as well as collaborating with Jonathan Cohen Furniture, which included installations in some of the Northwest's finest homes.
In 1998 Stephen was invited to bring his talent to the Coval Residence.  He stayed for nearly two years, designing and building shoji screens, doors, cabinets, and collaborating on other projects that included metal and stone. A gift that he left behind was his invaluable guidance and wisdom for the younger craftsmen, who continue to express appreciation for Steve's gentle and steady hand. When the Coval project ended in 2000, he went back into his own studio building commission furniture.
In 2005, Steve found new intrigue at Urban Hardwoods in Seattle, WA, a company founded for the purpose of giving a second life to discarded urban trees, saving them from fireplaces and landfills.  Steve started in their furniture-making studio, and later being drawn to Urban Hardwood's sawmill. Since then, Steve has developed the reputation as a master sawyer, divining the potential of magnificent logs with his seasoned eye and deft hand on the massive bandsaw. Many of the hardwood slabs that fall from Steve's saw have made their way not only into living rooms of fine homes, but into boardrooms of the world's largest corporations as well. The hard solitary work of sawing logs outdoors pays homage to the love Steve has for the honest work of ranching, and at the same time, it is a gentle bow to the Japanese craftsmen planing timbers in the Kyoto sun. Steve continues to tend the sawmill, and when it is quiet can be found enjoying life with his wife, two daughters, and three grandsons.